You older readers might remember and understand. Back when dinosaurs walked the earth we sometimes bought our vinyl in smaller stores that did not have turn-table listening stations. How many times did we either "score" or "strike-out" when, not knowing anything about the music, we took a gamble and just bought the lp for the cool art on the cardboard jacket?  My average was way better than 50%
But when it comes to prog,  we expect the art to be, well, "proggy."  When I was perusing some online albums to listen to recently, this artwork really grabbed my attention.  The album is light-years better than the art. The art is great. What a find. This will be a rave review.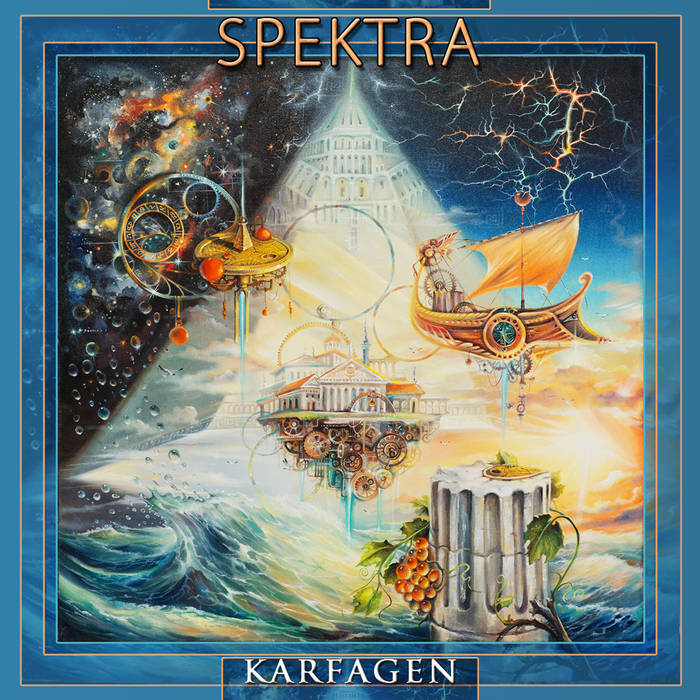 The object of my adoration is by KARFAGEN and is titled "Spektra."  KARFAGEN is the band/project name used by Ukrainian composer, musician, designer, producer Antony Kalugin [antonykalugin.net] I will be fully exploring, listening, and enjoying all of his musical endeavors posthaste, but for now "Spektra" sparkles sonic endorphins into the air at Casa Watson.
The 16 track album clocks in at 63 minutes and is almost entirely instrumental. The album is grand, soaring, orchestral prog-rock that hearkens back to the genius and immersive soundscapes of Tangerine Dream, Bo Hansson, Vangelis, Wendy Carlos, Vernian Process, and Camel.  Every track shifts and glimmers and changes with an ebullient and pastoral kaleidoscope of synth keys, electric and acoustic (12-string too) guitars, flutes, sax, violin, and accordion.  Who doesn't love prog-accordion?  Many of the pieces are tone-poems to wonder and would easily fit the big-screen cinema epic as both soundtrack themes as well as individual cues. At other times an almost jazz-prog "fusion" feel feathers in.  There's even a "Paris Prog Cafe" vibe on track 13, 'Dios Pyros,' where the accordion mimics a carnival calliope. Though cohesive and united into what might be termed a "new age" suite of relaxing inner visions (think the best of Deuter, Govi, Cusco, Jeff Johnson, Fresh Aire, or Kitaro), there is no repetitive sameness in the tracks but rather a variety of tempos, moods, and harmonies. One of my favorite songs is track 4 'Terra Incognita' and I caught myself actually blurting out loud: "holy schnikes" (I'm not sure I was channeling Chris Farley or Brad Birzer) when the mixed vocals in Latin kicked in. The accordion backed singing made me think of the Boston Camerata doing Renaissance prog. There is also some beautiful female vocalise by Olha Rostovska on track 11 'Aurora.' 
The arrangement and keyboard brilliance of Maestro Kalugin perfectly melds together the strong contributions of his players. Special accolades need to be given to the entire troupe but especially Oleg Pashkovskiy on piano, Kostya Ionenko on bass, Sergiy Balalayev on drums, Max Velychko on guitars, and of course, Sergii Kovalov on accordion.
This expansive and heroic symphonic suite is one of the best instrumental prog discoveries I have ever made. The genius of Antony Kalugin's KARFAGEN is not to be missed. Purchase "Spektra" now, thank me later.   You can listen to the album here: antonykalugin.bandcamp.com    I wish it didn't cost so much to fly to Ukraine.
Mellotron set to 11