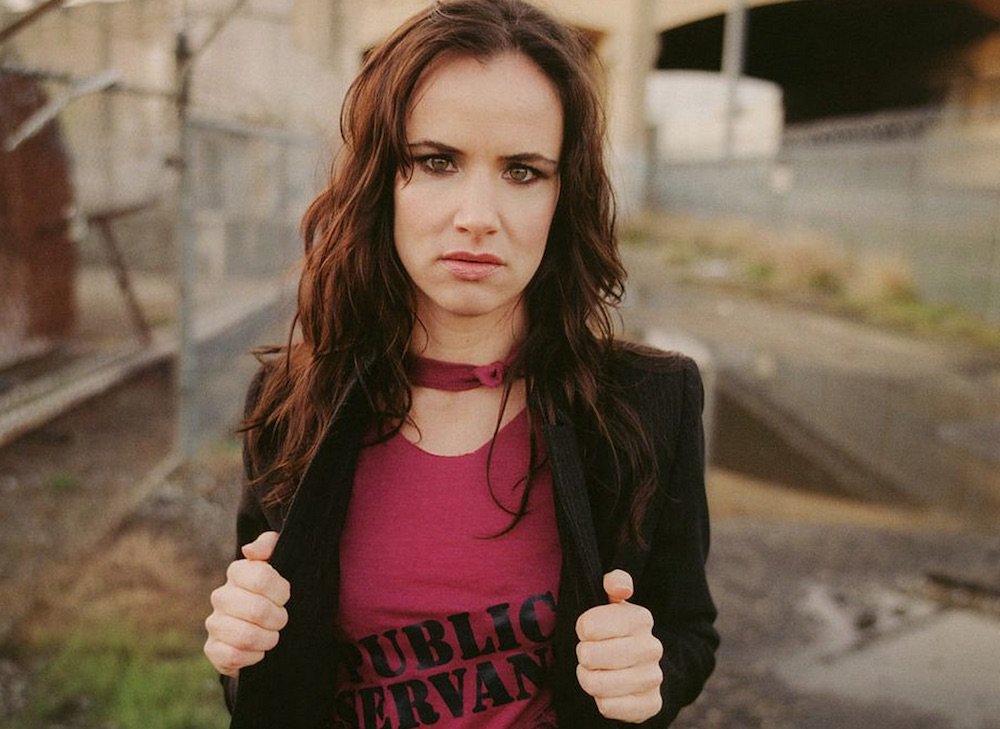 Juliette Lewis' new EP, Future Deep, is out this weekend and, clocking in at 25 minutes, this deadly dagger of an album is absolutely superb, unleashing a furious blast of both highly satisying and highly innovate rock and roll.
Tracks 1 and 5, "Any Way You Want" and "Hello Hero," were released as singles earlier this year, in September and April, respectively. Juliette also played these two tracks on her live tour this year. I was fortunate enough to catch the sold out show at the end of her tour (on September 14, 2016) in Vancouver, British Columbia, Canada, where she also played the same two tracks live.
I can testify that, as amazing as her songs are in their recorded versions, they are (incredibly) even more impressive when played live. Juliette is one of those rare artists that has to be seen as a live act in order to appreciate every charismatic dimension of her super-abundant talent.
On the same tour, she also played "I Know Trouble" and "Future Deep" (tracks 3 and 4) as part of a live preview of her forthcoming EP. Here's the full track list from the show in Vancouver that she played on Wednesday, September 14th:
Hot Kiss
American Boy
Mind Full of Daggers
I Know Trouble
Future Deep
Hello Hero
Any Way You Want
Fantasy Bar
Got Love to Kill
I Will Survive (Gloria Gaynor)
Hard Lovin' Woman
Whole Lotta Love (Led Zeppelin)
Proud Mary (CCR)

Encores:
You're Speaking My Language
Suicide Dive Bombers
She hit the stage going full tilt on the first two songs and, unbelievably, it turns out she was just getting warmed up, because "Mind Full of Daggers" then proceeded to be one of the most intense songs I have ever witnessed played live. Usually bands open with their best songs, but here in third position was the song with which she tore the house down. It was an incredible live version of what is already a pretty killer song in Four on the Floor's (2006) recorded version.
Juliette then showcased the spectacular musical diversity soon to be exhibited on her forthcoming EP, Future Deep, as she played the four tracks from it that I have already mentioned above. Her live rap on "Hello Hero" was done to the very perfection requisite for whipping the crowd into a dancing frenzy.
"Fantasy Bar" and "Got Love to Kill" and "Hard Lovin' Woman" are oddities when heard in their seemingly incongruous recorded contexts, but when you experience them live you understand why they are in fact quintessential live songs. No recording can ever capture what the band is able to do when they take them as launch pads for their live stage antics.
The whole night crescendoed with scorching cover versions (tributes to rock history) and then culminated in Juliette's trademark navigation of the crowd in "Suicide Dive Bombers."
What can I say, other than: when she goes out on the road again, be sure not to miss her. But, until then, this EP should be enough to convince you that she is one of rock and roll's greatest talents. And I don't just mean among those who can still rock today, but among all time.
"Losing My Mind" (Future Deep, track 2) may be more accessible to some, with its infused retro sensibilities, but the insane experimental ornamentations cascading through "Mean Machine" and "Ode to Hollywood" (Future Deep, tracks 6 and 7) are what most convincingly exhibit Juliette's unlimited courage to venture into uncharted musical territory. Nonetheless, her rock and roll compass never fails her, which makes this EP even more exciting than her EP Like a Bolt of Lightning (2004). That disc foreshadowed 2005's You're Speaking My Language and her subsequent 2006 masterpiece, Four on the Floor.
By drawing together the uncompromising experimental impulses exhibited on Terra Incognita (2009), and by bringing them all together with her hard rockin' instincts into a compact and coherent brief, 2016's Future Deep also seems to be heralding another forthcoming burst of epic creativity. So get ready, people. Right now you can dive deep into the future of rock and roll with Juliette Lewis' Future Deep.
Future Deep by Juliette Lewis
1. Any Way You Want (03:00)
2. Losing My Mind (03:02)
3. I Know Trouble (04:59)
4. Future Deep (02:42)
5. Hello Hero (03:22)
6. Mean Machine (02:32)
7. Ode to Hollywood (05:07)
Progarchist Rating: ★★★★★ (10/10)