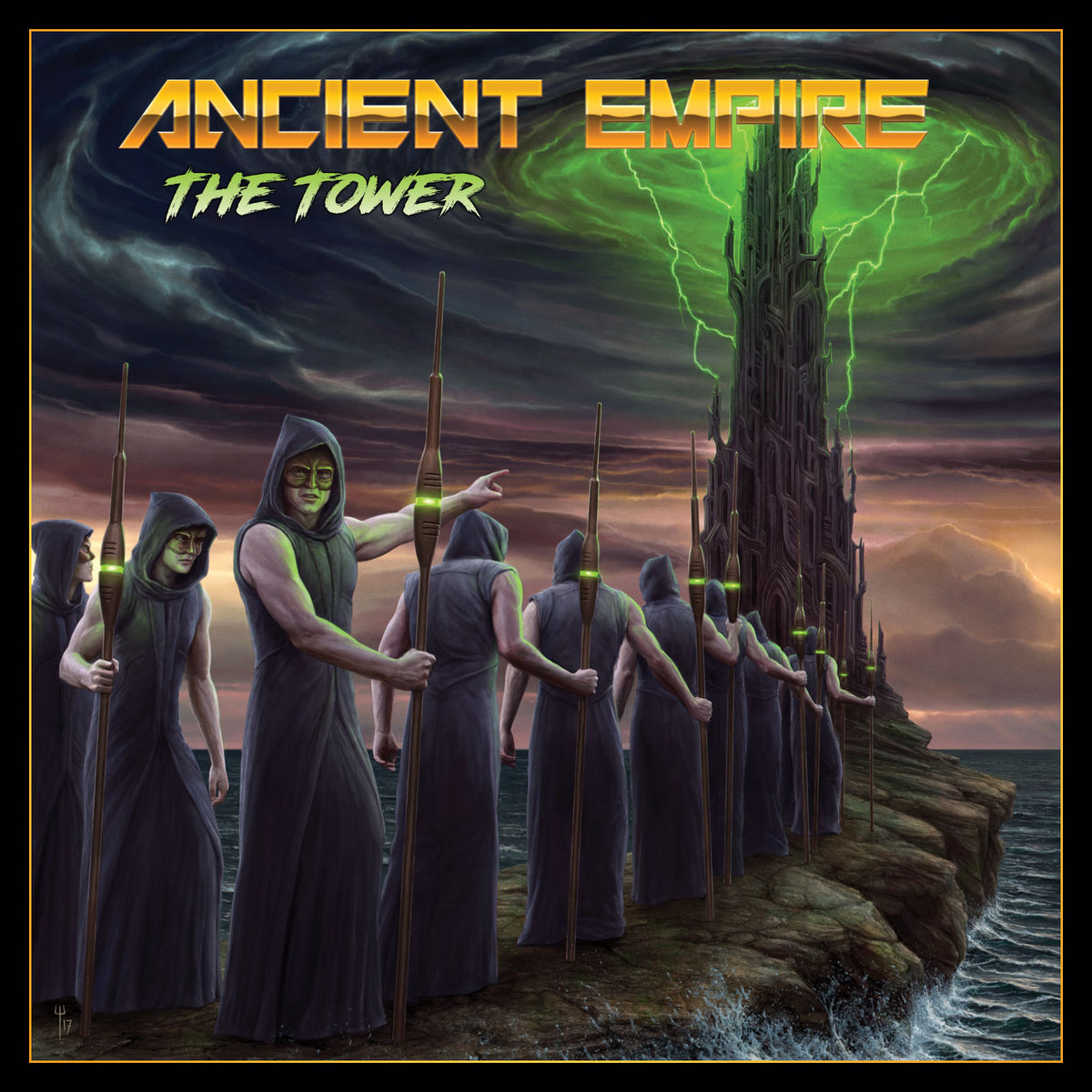 One of my greatest listening pleasures this year has been the discovery of the upper-echelon studio metal band Ancient Empire, consisting of Joe Liszt (vocals, bass, guitars), Steve Pelletier (drums), and Rich Pelletier (lyrics).
If you check out their Facebook page, right away you will see they have instant credibility — because they endorse the new Judas Priest album for all the right reasons!
You will have a hard time finding them online, because they do not do releases through streaming services or other corporate sources. Instead, you can buy CDs direct from the band (try eBay) or download their killer albums from Bandcamp (which is what I did, and you can buy the whole trilogy for a discount: highly recommended).
These guys are the real deal. They are anti-corporate enslavement and they do what they do for the pure love of metal. Their sound is classic traditional heavy metal, 1980s New Wave of British Heavy Metal, power metal, and speed metal shred thrash awesomeness.
The heavy drumming excellence on their first album When Empires Fall (2013) hooked me right away on the amazing first track, "Shadow of the Cross." I couldn't believe it when the second track was even better than the first. Listen to "Wings of Steel," you will see what I mean, it is unbelievable how it rocks. Every track on that album is fantastic (even if you will, like me, have favorites among them like "The Final Day" and "Ghost Soldiers"), but the climax with the last two tracks — "Ancient Empire" and "When Empires Fall" — will have you delighting in both the band name and album name, because if you had two songs that good, you would certainly name some things after them!
Other World (2016) has some brilliant sci-fi lyrics (e.g., finding another planet to survive on), and you can pick your favorite off of the every-track-is-awesome menu. I am particularly fond of "Resistance."
The Tower (2017) leads off with the epic title track about the Tower of Babylon. Not since Ted Chiang wrote his mind-bending short story on this subject has there been a comparable artistic achievement about the myth. Here, we get the definitive metal treatment.
Again, every track on The Tower slays. You cannot go wrong. Seriously guys, just get all the music today; if you have liked my metal reviews in the past, I give this my highest endorsement.
Because the band has a low corporate profile, news is scarce. So here is their history straight from Joe's mouth (on their Facebook page, Dec 3, 2017):
Hellhound and the Keep It True Festival are to blame!

People have said that there is not a lot of information about Ancient Empire online. That is true, maybe we should have named the band Mysterious Empire. It's a simple story, one that I will briefly tell. I joined the band Hellhound in the fall (I believe) of 2010, ready to play the Keep It True festival in the spring of 2011. Hellhound was on the Stormspell label at the time. I was not aware of the band or label, i only responded to a craigslist add because they were my age, playing my style and their cd cover was cool as shit! After playing the festival I realized just how popular metal was in Europe. It wasn't that popular in the states anymore at the time but I now see a slight resurgence.
We returned to the states from germany and I had decided along with Shadowkiller as my live band I wanted to do a straight classic metal style project inspired by our trip. A quick email to Steve and Rich and thats really all it took to get the ball rolling. AE is a studio project. We never intended to play live and it is only myself on vox, guitars and bass, Steve on drums and Rich writing lyrics. We do not get together in a traditional band manner and all of this is structured, written, recorded, mixed and mastered through the virtual realm.

The question then is "How will you play live?" In the immortal words of the Beatles, with a little help from my friends! When headbangers Open Air called us to arms it wasn't hard to figure out what could be done. I spoke with Jordan from Stormspell and told him "hey, i can get Gary and Dan from Shadowkiller and Rob from Hellhound." His exact words were "that sounds like a pretty damn good Ancient Empire to me!"

Really, Hellhound, Shadowkiller and Ancient Empire are part of my big metal family.

So here we are, flying the metal flag in Germany once again, heading to Headbangers Open Air in July of 2018. Hard to believe…i wish Steve and Rich were there to rock out like the old days but logistically and because of the places we are at in our lives it just isn't possible. I feel completely fortunate that people have made this project as popular as it has become. I look forward to bringing this music to life in a live music atmosphere! \m/ \m/

Joe Liszt, Somewhere in Northern California 2017
Happily, here is the latest news (May 1):
The Empire rolls on! Update on the Ancients:
We are currently working on our fourth release. Only meant to be an EP, it has turned into a full-fledged album. The title: Eternal Soldier!
It is amazing how quickly these songs come out. All the music and lyrics have been written.
With the Metal Gods on our side we hope to see the release by the end of July for the Headbangers open air festival in Germany.
Prost from Joe, Steve and Rich!
I predict it will be an Album of the Year. On what basis, you ask? Dude… listen to the trilogy… and you will understand!