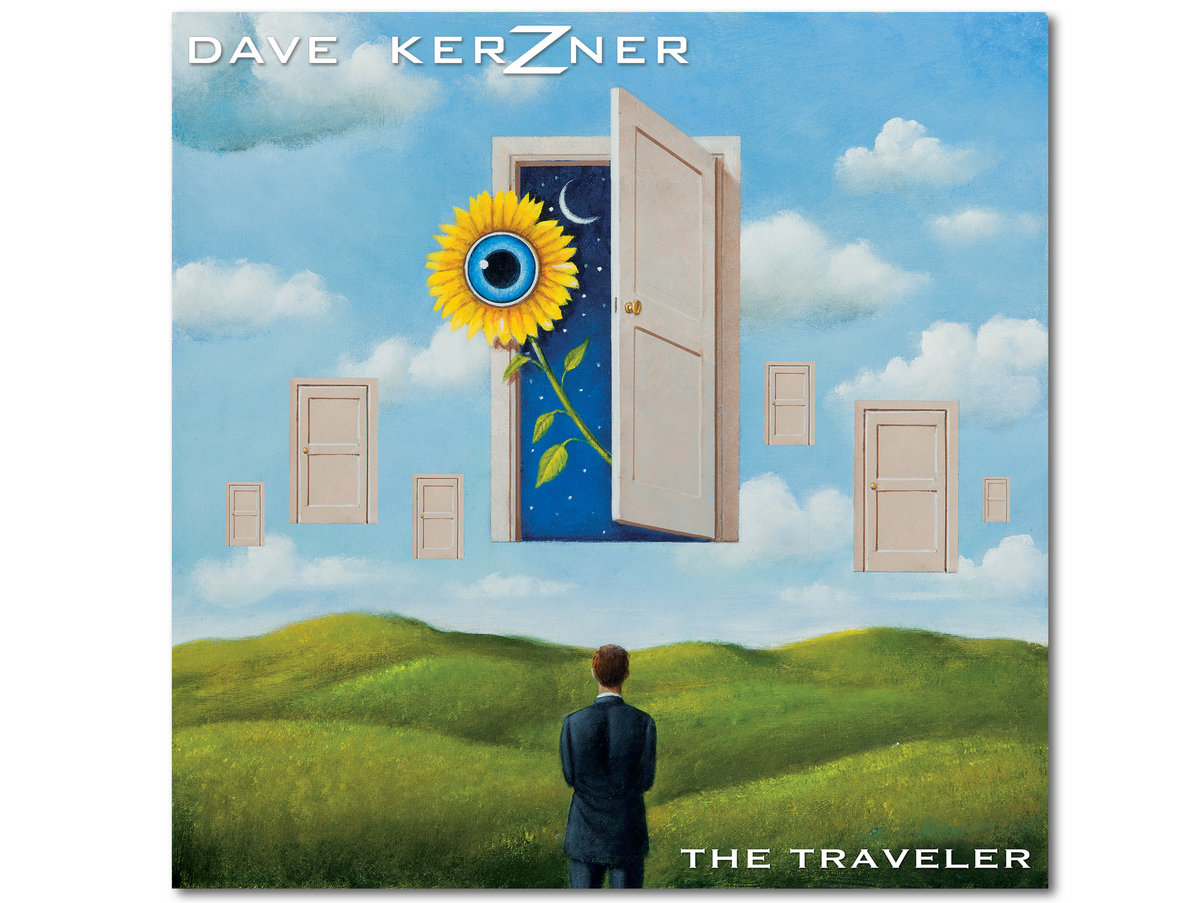 Dave Kerzner's third studio solo album is another triumph. Collaborating with some of the greatest musicians in prog, Kerzner produces another astonishing sonic experience. As with his previous solo works, his technical expertise places the highest quality audio elements in the service of loving song-craft.
This time around, Kerzner's solo writing is the strongest it has ever been. If you want prog epics, go to Arc of Life (where Kerzner collaborated on the best Yes album of the past decade, despite the ABWH-like absurdity whereby the musicians creating the masterpiece don't call themselves "Yes"), but if you want concise mastery of the art of songwriting, check out The Traveler masterclass, where Kerzner's lyrics rise to the highest level in order to fully complement his sonic world of wonders.
The B-side of the album (tracks 5 to 9), however, could be considered a prog-length suite, since tracks 5 and 9 ("Here and Now", Parts 1 and 2) act as an impressive frame for the seamless sonic journey that unfolds over the inner tracks 6 to 8 ("Better Life," "Cannot Get It Back," and "Feels Like Home").
"Here and Now, Part 2" is itself worth the price of admission for the entire disc. Genesis fans will smile as Kerzner takes a page out of the Genesis playbook and cleverly references "Cinema Show" at the beginning of the track, and he then proceeds to put Tony Banks' keyboard sounds to further exciting use. With Nick D'Virgilio on drums and Billy Sherwood on bass powering the song, the track brings the album to an exhilarating climax, ending with a reference to both the opening track "Another Life" and also to the Beatles' "A Day in the Life."
The Genesis keyboard tricks are deployed throughout the album, on tracks like "A Time in Your Mind" (which sounds like 80s Genesis), confirming Kerzner as the premier keyboard wizard of our time. The keyboard sounds on this album are consistently jaw-dropping and make it immensely pleasurable for listen after listen.
D'Virgilio plays on most of the album, but there's also Marco Minnemann on tracks 1 and 2. "Ghostwritten Fables" (track 2), in particular, exhibits such astonishingly virtuosic drumming that it proves what a huge difference it makes to have only the highest echelon talent behind the kit on any song. Because Kerzner is the coolest guy in prog, he gets collaboration from amazing musicians on every track. Check out the credits (found at the end of this review) for many other eye-popping surprise appearances here, like Steve Hackett and David Longdon.
Speaking of Longdon, "For Granted" serves up a poignant mediation on loss, making it another highlight on an album full of unusually strong songs. In addition to the Genesis inspirations and literal keyboard references, Kerzner also crafts his own unique sound, which on this disc seems to infuse an uplifting slab of Sigur Ros-like walls of sound into Kerzner's signature blend. It's yet more proof that we are living, here and now, in nothing less than the best days of prog. I think with this particular sound blend on The Traveler, Kerzner has truly found his own distinguishing keyboard sound that is nonetheless rooted in the tradition of the greatest.
The organic way in which the guitars are interwoven into the songs, especially on the standout track "Better Life" with its cathartic guitar textures, is unexpected from a solo artist like Kerzner who specializes in delivering the highest level of keyboard experiences. But it's more proof of Kerzner's ability to collaborate with only the best, and yet at the same time draw from them their very best playing on each of the tracks. No one is ever showboating, but yet they all manage to impress with their dedication to an exalted sonic service of the song. Fernando Perdomo, in particular, again leaves his indelible mark on a Kerzner album, as he seems to be an indispensable half of the Kerzner dynamic duo.
For those curious, Kerzner explains the album's story concept, which will please those who like their prog with a unifying conceptual justification:
All three of my studio solo albums are concept albums and the stories are connected to each other. The character, The Traveler, is able to travel in time through his mind and influence the past or future. On "New World", he's stranded in the desert and has to find his way home which he thinks is in the future, on "Static" he's lost in a chaotic world of distractions (like Idiocracy or today! haha) and on "The Traveler" he's traveled so far into the past and future that he finally comes full circle to appreciate love, peace and harmony in the "here and now".

All three albums have a duality of being sci fi stories and, at the same time, being stories we can relate to because they're also about us! We're all "time travelers" in that most of us spend more time thinking about the past or future than getting the most out of the present moment.
Complementing this uplifting concept, the music also speaks for itself, and the lyrics of each individual song stand on their own merits. This is some of the best prog you will hear, especially if you appreciate subtle art and elegant audio refinements. It's a shoo-in for the year's top ten, and Progarchy salutes Dave Kerzner for making the world a better place, and for showing us the way to living a better life.
Dave Kerzner – The Traveler
Reviewed by C. S. Morrissey for Progarchy.com
1. Another Lifetime
2. Ghostwritten Fables
3. A Time In Your Mind
4. For Granted
5. Here and Now Pt1
6. Better Life
7. Cannot Get It Back
8. Feels Like Home
9. Here and Now Pt2
All songs written by Dave Kerzner except:
Cannot Get It Back music written by Dave Kerzner, Randy McStine and Fernando Perdomo, Lyrics by Dave Kerzner
Here and Now pt 1 & 2 music written by Dave Kerzner, Randy McStine and Fernando Perdomo, Lyrics by Dave Kerzner
Ghostwritten Fables by Dave Kerzner and Gene Siegel, Lyrics by Dave Kerzner
Cover artwork by Rafal Olbinski
Graphic Design by Dave Kerzner
Musicians:
Dave Kerzner – Lead vocals, keyboards, acoustic guitars and drum programming
Fernando Perdomo – Guitar on all tracks, bass on tracks 1, 4, 6
Francis Dunnery – Guitar on track 6
Randy McStine – Guitar on tracks 5, 7 and 9
Nick D'Virgilio – Drums on tracks 3, 4, 5, 6, 7 and 9
Marco Minnemann – Drums on tracks 1 and 2
Alex Cromarty – Drums on track 8
Stuart Fletcher – Bass on track 8
Matt Dorsey – Bass on tracks 2, 5, 7 and 9
Billy Sherwood – Bass on tracks 5, 7 and 9
Jon Davison – Vocals on track 8
Durga McBroom – Backing vocals on tracks 3, 4, 6, 7 and 8
Alex "Yatte" Chod – Backing vocals on tracks 1, 3
Joe Deninzon – Violins and Violas on tracks 1, 2, 5 and 9
Ruti Celli – Cello on tracks 1, 2, 5 and 9


Cameo spoken word appearances by Emily Lynn, Heather Findlay, Lara Smiles and David Longdon (Here and Now pt1) as well as a guitar cameo from Steve Hackett (For Granted). 


Mixed and Mastered by Dave Kerzner